CS Hotline
02-7720-0338
pjur BACK DOOR COMFORT Water Anal Glide 100ml Water-based Lubricant
Item No.827160110147
This product is a mist containing human pheromone. Both male pheromone and female pheromone are blended so that couples can both enhance their feelings.
Get 1 set of pjur superhero PERFORMANCE spray 20ml at TWD 400 for any purchase.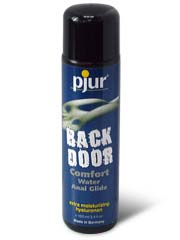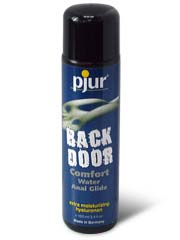 Extra moisturizing hyaluronan.
Exceptionally long-lasting lubricating effect without getting sticky.
The water-based lubricant with a comfortable lubricating effect, especially for hard anal sex. The addition of valuable hyaluronic acid featuring moisturising properties forms small water cushions to support the lubricating effect. pjur BACK DOOR comfort water anal glide is taste- and odourless, and is characterized by an exceptionally long-lasting lubricating effect without getting sticky.
Ingredient hyaluronic acid: outstanding moisturising properties.
Especially for hard anal sex.
Made in Germany
Expiry date: 2019.12
Certificates
| | |
| --- | --- |
| | CE-certified |
| | Dermatologist tested, safe for daily use. |
*Use a condom only once. Non-vaginal use of condoms may increase the risk of them slipping or being damaged.
*No method of contraception can provide 100% protection against pregnancy or sexually transmitted infections (STIs) including AIDS.
*Please read the instruction manual carefully before use.
Sampson user comments on this product